Feeling tired is a way of life for many people. There are so many conflicting demands on our time, from kids and elderly parents needing help with tasks to employers expecting us to respond to emails in the evening. Is it any wonder we don't have enough R&R or sleep?
While it is normal to feel tired sometimes, especially when you have small children, feeling tired ALL the time is abnormal. Read on for a brief look at some potential reasons why you may be abnormally tired, and what you can do about it.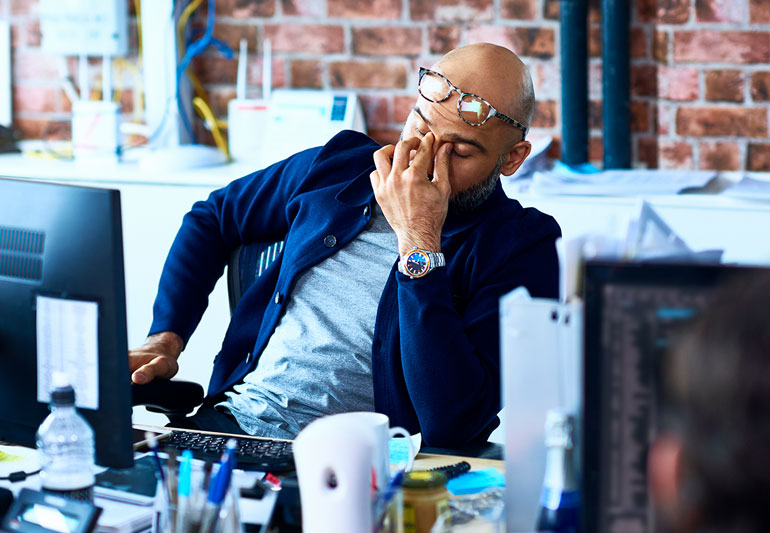 Anemia
Data from the World Health Organization reveals that in 2019, 29.9 percent of women of reproductive age were anemic, which equates to 500 million women around the world. This shows how common anemia is.
Anemia is often caused by a poor diet, but in the Western world, another potential cause is the popularity of vegetarian and vegan diets, especially in young women. One of the classic symptoms of anemia is feeling tired all the time. Thankfully, anemia is easy to detect with a simple iron panel blood test and easily cured with some iron supplements.
If you have heavy periods and are feeling tired more often than not, ask your doctor to check your iron levels.
SIBO
Our gut is a carefully balanced garden containing 300-500 types of "good" bacteria. These helpful organisms live in our digestive tracts, where they help us digest food and play a part in various other metabolic processes. If the balance between good and bad bacteria is disrupted, as can happen for many reasons, you are at a higher risk of disease.
SIBO is a condition whereby the bacteria population of the small intestine grows out of control, causing symptoms such as chronic tiredness and diarrhea.
Anyone with extreme tiredness and intestinal problems should have a checkup as soon as possible, to rule out SIBO and other serious gut disorders. A bad case of SIBO can lead to malnutrition and weight loss.
Read the Ruscio Institute's guide to sibo fatigue to learn more about this condition. It explains how there is a strong link between IBS and SIBO. Dr. Ruscio's clinic for functional medicine can help patients heal their gut and recover from SIBO fatigue.
Underactive Thyroid Disease
The thyroid gland is a small butterfly-shaped gland in the neck that usually goes unnoticed until it begins to malfunction. Because the thyroid is part of the endocrine system, it has a role in many functions.
Abnormal fatigue is one of the symptoms of an underactive thyroid. Patients whose thyroid is failing usually gain weight, feel tired all the time, have gut issues, suffer from hair loss, and a host of other unpleasant symptoms. If left untreated, the patient will eventually die.
The most common type of underactive thyroid disease is autoimmune in origin. This is where the body's immune system attacks the thyroid, causing it to release its stock of hormones as the cells die. Women are much more likely to have an autoimmune disease, and thyroid disease often runs in the family.
It's important to have abnormal fatigue checked out if you suspect it could be caused by an underactive thyroid. The condition is treatable with synthetic hormones and once your thyroid hormone levels have stabilized once again, you will start to feel much better.
Infection
When you have a viral infection such as influenza or Covid, the body has to work hard to fight it off. This is why we sleep a lot when we're sick. In some cases, the infection you have may be very low level, and the only symptom is abnormal fatigue.
If you are dealing with an infection, viral or bacterial, and are receiving appropriate treatment, it is important to listen to your body and make sure you have plenty of rest. Feeling tired is a sign your body is busy fighting the infection. Trying to carry on as normal will only lead to a longer recovery time. Go to bed for a day or two if you need to!
Pregnancy
It's worth considering whether you might be pregnant if you feel unexpectedly tired. Crushing exhaustion is a common symptom of early pregnancy. Even before you realize you are pregnant, your body is working hard nurturing a small cluster of cells, which will grow into a baby over the next nine months.
Pregnancy is always worth considering for a woman of child-bearing age who has had sexual intercourse since her last menstrual period. The 100 percent guaranteed form of contraception is abstinence, so don't assume because you are on the pill or using condoms you can't possibly be pregnant. Take a pregnancy test to be sure.
Don't ignore abnormal tiredness. There is usually an underlying reason, and sometimes that reason is a serious one. Make an appointment for a health check to be safe.