Nowadays people have become increasingly self-conscious about their physical appearances. The market for the personal care products is developing at a rapid rate owing to the increasing number of health-conscious individuals. Owing to the change in the lifestyle, problems such as early aging, skin infections, and other problems have increased rapidly.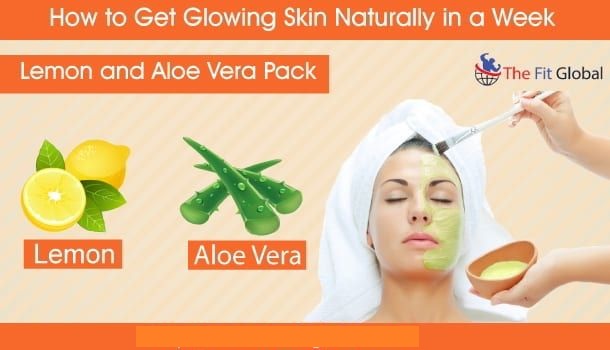 But, every individual wants to look good and youthful every time. They want their skin to be smooth and glowing. The skin of a person says a lot about his/her physical fitness. Dark circles under your eyes indicate lack of sleep, acne on your face show that your stomach is not in a good condition, and much more. Thus, if you are fit and healthy then your skin will glow automatically. Looking good in your own skin will make you happy from inside and will give you confidence.
In this article, we have tried to include the natural ways in which you can achieve a good glowing skin.
The basic solution for all the problems is keeping your body hydrated. Drink more than six glasses of water daily so that your body remains hydrated throughout the day.
Read Also – Top 5 Benefits Of Regular Massage
Massage
Honey, lemon, yogurt, etc. are some of the excellent ingredients that help in resolving many skin problems.
By using these ingredients you can make your own face packs and clean your face. Cucumber can be used to relax your eyes; cut two slices of cucumber and place on the eyes for 10 min. After resting for some time use the same cucumber to massage your eyes in a circular motion in order to get rid of the dark circles.
You can use the mixture of honey, oil, and sugar to scrub your face. Combine the mixture and apply it on your face (not restricted to only your face it can be used for any body part) and then massage your face in circular motion for few minutes. Then massage in an anti-clockwise direction for some time. Then wash off the pack with warm water. This helps in cleaning your skin from the dead cells and blackheads.
You can keep your skin in staying healthy by cleaning up your skin from the dead cells regularly, by moisturizing your skin with good facial packs, and by drinking lots of water.
The creams and moisturizers that you purchase from the market contain substances that may cause you problems later on. Thus why depend on these products if you can treat your skin by giving a massage with the household ingredients.