Jojoba oil is extremely beneficial for skin and hair due to its stupendous properties. The natural sebum in a human body is similar to that of jojoba oil, which makes it highly desirable. It helps get rid of pimples, blackheads, wrinkles, scars, sunburns, skin pigmentation, microbial infections, psoriasis, dandruff, cellular damage, chapped lips, rough hair, and other skin ailments.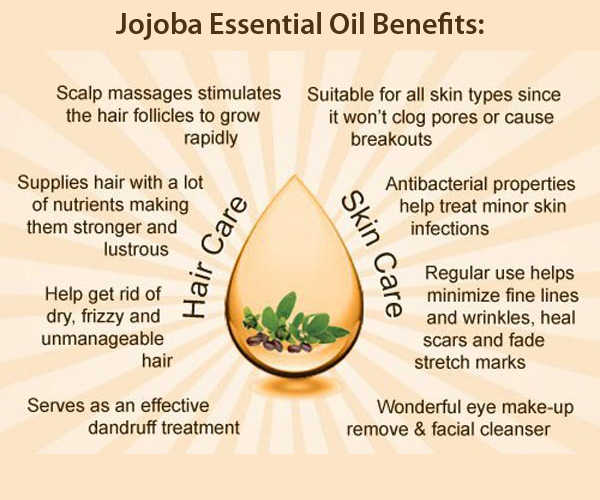 Incorporation of Jojoba Oil in Cosmetic Products
Cosmetic products that are impregnated with jojoba oil enhance the natural functionalities of the body and gives blemish-free smooth skin. It is impregnated with oleic acid, docosanoic acid, ferulic acid, palmitoleic acid, and more. It is also enriched with copper, vitamin E, zinc, selenium iodine, B-complex, and other components that make it powerful oil for healing.
Read Also – How Are Depression And Cardiovascular Disease Related To Each Other?
How Jojoba Oil Cures the Skin Problems?
The human skin produces natural sebum to offer a protective layer on the skin. However, when it fails to produce the same in sufficient quantity, massaging jojoba oil can offer immense benefits. Since this oil is extremely light, it absorbs into the multiple layers of skin. This helps extract the most from the oil, contributing to health benefits.
How is Jojoba Oil Helpful in Massaging?
Massaging is helpful in reviving the senses as well as relaxing the muscles. When jojoba oil is used in massaging the body, benefits of massage enhances manifold, which are as follows:
The slippery nature of the oil helps spread it evenly on the skin for better absorption.
Being hypoallergenic, it elevates the benefits while not triggering any allergies.
It treats acne while treating the epidermal layer of the skin.
Moisturizes the dry and chapped skin by supporting the production of the moisture glands beneath the superficial skin.
A human body is jammed with various glands that release sebum. When those glands are incapable to produce enough sebum to support the required moisture, jojoba oil helps support it with its similar characteristic. Incorporating this oil in massaging regime produces incredible benefits with a reduced skin infection.