Coconut is a valuable gift from Mother Nature. It has numerous health benefits that contribute to our healthy life.
It is not only rich in nutrients but also it is tasty and delicious. You can take coconut primarily in four forms; coconut water, coconut meat, coconut oil, and coconut milk.
Coconut has been a part of our diet since ages. You would be able to embrace its intake when you get aware of its multiple health benefits. So, this article helps you in achieving the same.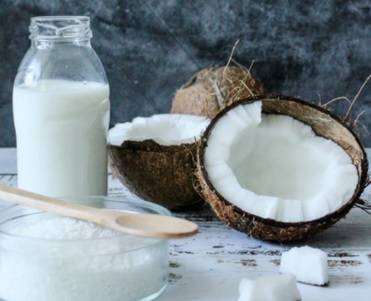 Rich in nutrients:
It is rich in essential nutrients like iron, manganese, magnesium, selenium vitamin B6, and digestive-friendly fibers.
Manganese promotes bone health and the metabolism of carbohydrates, proteins, and cholesterol.
Copper and iron helps to form red blood cells and selenium is an important antioxidant that protects your cells.
Coconut water is more hydrating than plain water. It is also a good source of potassium, a mineral that helps balance sodium levels in the body and regulate blood pressure.
Read Also :- Best Home Remedies To Get Rid Of Frizzy Hair Naturally
Helps in weight loss:
Coconut meat is high in fat but it is the good source of a specific fatty acid called medium-chain triglycerides (MCT), which are quickly metabolized in the body. This might help you lose excess body fat.
Taking coconut oil in small quantities might act as a fat-burner and help you become slim. (Please note that coconut oil also contains some bad cholesterol as well, but there is nothing wrong in taking small quantities; you just make sure that is not the only oil in your diet.)
Benefits heart health:
It has been proven that eating coconut meat helps to decrease rates of heart disease.
In general, belly fat increases the risk of heart disease. Coconut improves the cholesterol level and helps to reduce the belly fat and hence it benefits heart health.
They also contain polyphenol antioxidants that protect your cells from oxidative damage and help in reducing disease risk.
Enhances beauty:
Coconut not only contributes to health but also it enhances your beauty. Coconut oil can work as a natural moisturizer, it helps trap water into the skin to keep it moist.
Coconut milk acts a magic to your hair. It promotes hair growth. It also acts as a natural conditioner when used as a hair mask before shampoo.
Easy intake:
The best part about coconut is that it is easily accessible. You can take it either externally or internally to get its benefits. It is also available in the form of virgin oil as well as refined oil in the market.
You can take it in powdered form as coconut flour. It can be a substitute for wheat flour. It's gluten-free and nut-free.
Coconut water, coconut meat is available in all general market places. You can extract coconut milk from coconut on your own using a mixer. If you don't prefer to do it, there are multiple brands that sell coconut milk online.
Drawbacks:
Coconuts are high in calories, it might promote weight gain by providing extra calories depending on the actual calorie intake you need.
On the whole, coconut is a nutrient rich fruit that improves your health in many forms. So make sure you include coconut to your diet in some or the other form.