Why would I want to change my Medicare Advantage plan?
Many seniors are happy with their current level of Medicare Advantage coverage, but that doesn't mean there is no reason to take a closer look at the many options that may be available to you now that you've reached your golden years.
In fact, you may be surprised to learn just how much of a difference the ideal Medicare Advantage plan can make when it comes to your overall health and happiness. For many current Medicare Advantage beneficiaries, the following five factors play an important role in changing your Medicare coverage and choosing the right Medicare plan for your needs.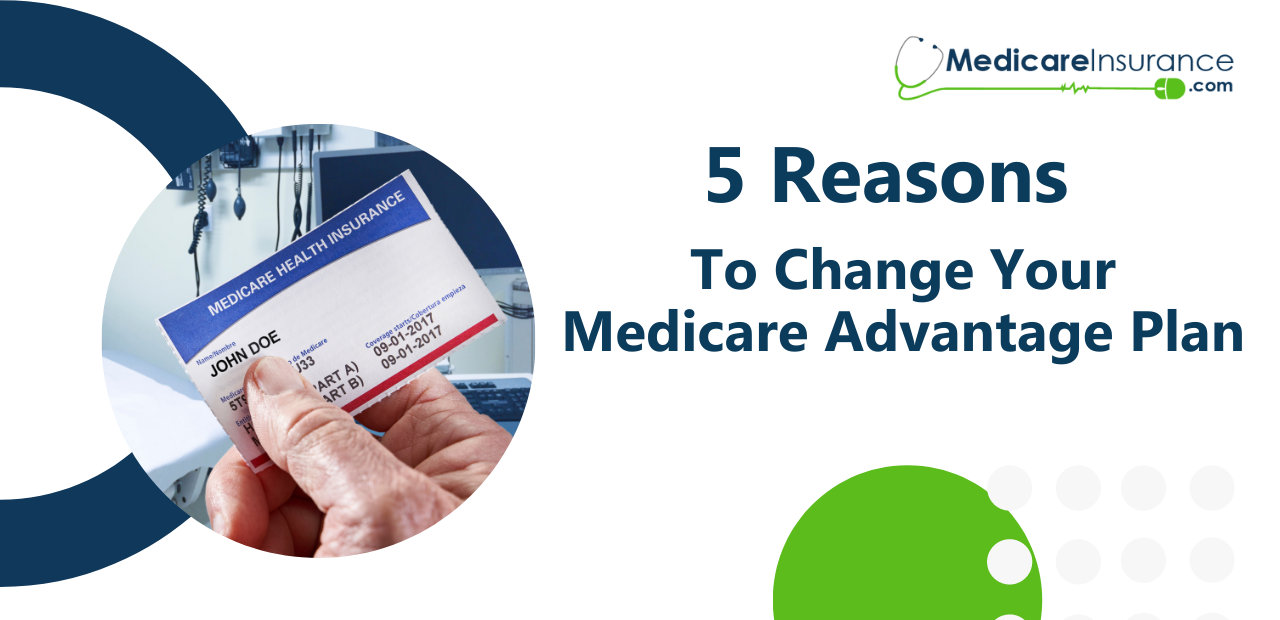 5. Your benefits may have changed without your knowledge.
Believe it or not, your current plan may have changed the details of its coverage since you initially enrolled. This is especially true of Medicare Advantage (Medicare Part C plans), as the exact benefits of these plans are determined by private insurance carriers.
It's true that your plan is required to send you an official Annual Notice of Change letter in the weeks leading up to the Medicare Advantage Open Enrollment Period, but it can be easy for this letter to get lost in the mail or overlooked upon arrival.
4. You may save money by switching plans.
Even if your current Medicare Advantage plan still includes all the healthcare benefits you require, it's possible that you are paying much more for this coverage than is necessary. In fact, it's entirely possible that there may be other plans out there that offer the same benefits at a lower price. And for this, you should always take recommendations or help from services like Health Estimates, which will help you benefit more.
For this reason, even if you are happy with your current Medicare Advantage plan, it never hurts to shop around. When doing so, be sure to give special attention to financial factors like the cost of monthly premiums, deductibles, coinsurance, and copayments
3. You may get better access to preferred providers.
Healthcare can be very personal, and this is just one reason that you should never stick with a Medicare Advantage plan that doesn't allow you to receive coverage for services provided by doctors and hospitals you are comfortable with.
If you aren't completely satisfied with your current array of in-network providers, it may be worth it to explore other Medicare Advantage options. It's also possible that your plan's network may change from year-to-year.
2. You may be eligible for lower prescription drug costs.
Expenses associated with prescription drugs can be some of the most stressful factors when it comes to healthcare costs in retirement. In fact, the older we get, the more medications we may require, and these costs can add up quickly.
With the right Medicare Advantage plan, you can ensure that all your prescriptions are readily available and affordable in accordance with your needs. Like networks and pricing, Medicare Advantage plan drug formularies can also change yearly, so be sure your plan is there for you when you need it.
1. Your current plan may not be the best fit for you.
If one thing is for certain, it's that your Medicare Advantage plan should be molded to fit your exact healthcare coverage needs, not the other way around. Healthcare needs can also evolve over time, so ensuring that you have a Medicare Advantage plan that is flexible enough to accommodate you is especially vital.
If you've noticed that your medical needs have changed over the past year, if you have recently experienced major finance or lifestyle changes, or if you have been diagnosed with a new condition, illness or disability, it's an extremely good idea to reevaluate your Medicare Advantage plan to ensure you're covered at every turn.
When Can I make changes to my Medicare coverage?
Due to its status as a government-regulated health care program, there are specific times during the calendar year where you are permitted to make changes to your Medicare Advantage coverage.
The Medicare Advantage Open Enrollment Period, which runs from January 1st to March 31st of each year, is the best time to switch between Medicare Advantage plans. During this period, who can also return to Original Medicare coverage.
During the Annual Enrollment Period, which occurs from October 15th to December 7th of each year, you may also freely join, switch, or drop a Medicare Advantage plan.
You may also be able to make changes to your Medicare coverage throughout the year as a result of specific life circumstances, such as a move to a new coverage area. This period is known as a Special Enrollment Period.
Who can I speak to about changing my Medicare plan?
If you're interested in taking a deeper dive into your Medicare Advantage coverage options, the best place to start is with the assistance of a licensed insurance agent and Medicare Advantage expert, such as those employed by MedicareInsurance.com.
Don't hesitate to contact MedicareInsurance.com today via phone at (800) 950-0608 to further research and compare your Medicare coverage choices.