You don't have to be a basketball fan to know the name, LeBron James, as his preternatural heroics on the court have transcended him from an NBA superstar to a mainstream media personality. He is larger than life and his list of accomplishments includes being named a 17-time NBA All-Star and winning four NBA titles. His entrance into the Hall-of-Fame is a mere formality but that ceremony will have to wait because King James is still an elite player in the league, even at the ripe old age of 36 years-old.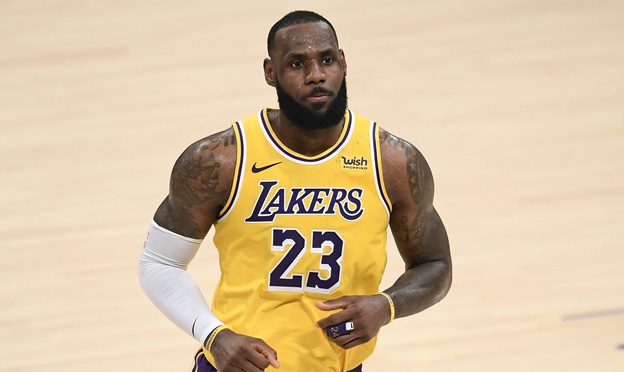 Oftentimes a professional athlete is on borrowed time once they reach 30 but LeBron is still hovering near his career average in points, rebounds, and assists this season. Those of you who are partial to sending in a wager or two understand that when James is not in the lineup, the NBA spreads on the Lakers at all of the best online sportsbooks are immediately impacted. But right now, he is healthy while his Los Angeles Lakers are poised to defend their NBA crown, and all is right in the world of LeBron James.
But how does he do it? At an age when most other athletes are in the broadcast booth rather than on the field of battle, LeBron just keeps performing a highwire act that never gets old. He has a body chiseled from granite and has been consistently healthy throughout his career, playing in over 91 percent of his season's schedules. We decided to find out what LeBron James does to keep his body functioning at such an extraordinarily high level and compete against players a decade or more, younger than him.
How Does LJ Stay Fit?
LeBron James is not your average bear. At 6'9" and approximately 250 pounds, he is an avalanche of a man possessing more athletic ability in his big toe than most mere mortals have in their entire body. But getting peak efficiency out of his body takes time, energy, and steely discipline. Although his innate physical gifts are his, and his alone, we can consider the diet and training regimen that keeps his exotic engine firing on all cylinders.
Let's start with LeBron's diet. If you listen to him, it sounds exactly like what you would expect from a professional athlete.
"Before competition for me would be like a chicken breast and maybe a little pasta. The carbs help because you're going out and playing a lot of minutes. But a salad and some veggies will have me perfectly fine. And before the game, I might have a protein shake and some fruit, and I'll be ready to go."
However, if we are to believe former teammate, Tristan Thompson, the average man or woman can take solace in their not-so-balanced nutritional choices based on what he observed.
Thompson told The Athletic, "Ask him what he eats for breakfast. He has like five French toast, drowns it in syrup with strawberries and bananas. Then he has like a four-egg omelet and then he just goes and just fucking dunks on somebody. It doesn't make sense."
"He eats desserts with every meal. He'll come with his one-week diet, vegan crap, but he literally eats like it doesn't make sense. He's really a specimen. He eats like s***. I remember one year I tried to eat like he ate and it just didn't work out. I started gaining weight and said, 'F*** this'. I mean it works for him. He loves sweet. He loves sweets. He eats desserts and French toast. It's crazy how his body just burns it."
As for the King's workout regiment, let's just say it's complicated – very complicated. You see, LeBron spends approximately $1.5 million per year maintaining the machine that has built him an empire. Among the many trainers, personal masseuses, and physical therapists he has on staff, former Navy SEAL and biomechanist, Donnie Raimon, has brought a new level of body maintenance to LeBron's camp which also incorporates cryotherapy, electrostimulation machines, and hyperbaric chambers to enhance recovery time and diminish the potential for injury.
As for his workouts, LeBron typically follows a routine of three to four sets of 12-20 reps on each exercise. On Monday he focuses on chest, triceps, and shoulders with a warm-up on the VersaClimber followed by incline dumbbell bench press, seated dumbbell overhead press, seated overhead triceps extension using one dumbbell at a time, triangle and clap pushups, followed by 15 to 30 minutes of yoga.
Not only does sleep help in performance and recovery for athletes, it is also key to keeping a healthy mental health routine. Read how sleep routines help LeBron James https://t.co/oRYR8qgY1e#Big12BreakstheStigma @kstate_athletes

— K-State Mental Wellness (@WildcatTough) February 23, 2021
Tuesday is a cool-down day consisting of plyometrics and yoga.
Wednesday focuses on biceps, back, and traps. Thirty minutes on the VersaClimber followed by barbell deadlifts, standing barbell bicep curls, barbell bent-over rows, chin-ups, push-ups, pull-ups, and a warm-down with 15 to 30 minutes of yoga.
Thursday finds LeBron doing a repeat of Tuesday's routine with plyometrics and yoga.
Friday is all about the legs. VersaClimber for 30 minutes followed by back squats, leg presses, jumping lunges, box jumps, weighted jumps, seat calf raises, and a cool down with 15 to 30 minutes of yoga.
Weekends are reserved for plyometrics but mainly body recovery. Maybe it was on a lazy Sunday morning when Tristan Thompson saw his legendary teammate devour all his sugary treats but you can be certain that a body like LeBron's doesn't come without a mountain of hard work and sacrifice.