Bethanechol is a prescription that helps people who are having trouble urinating due to surgery, narcotics, or other circumstances. It is also occasionally recommended for other purposes, which your doctor or pharmacist will note.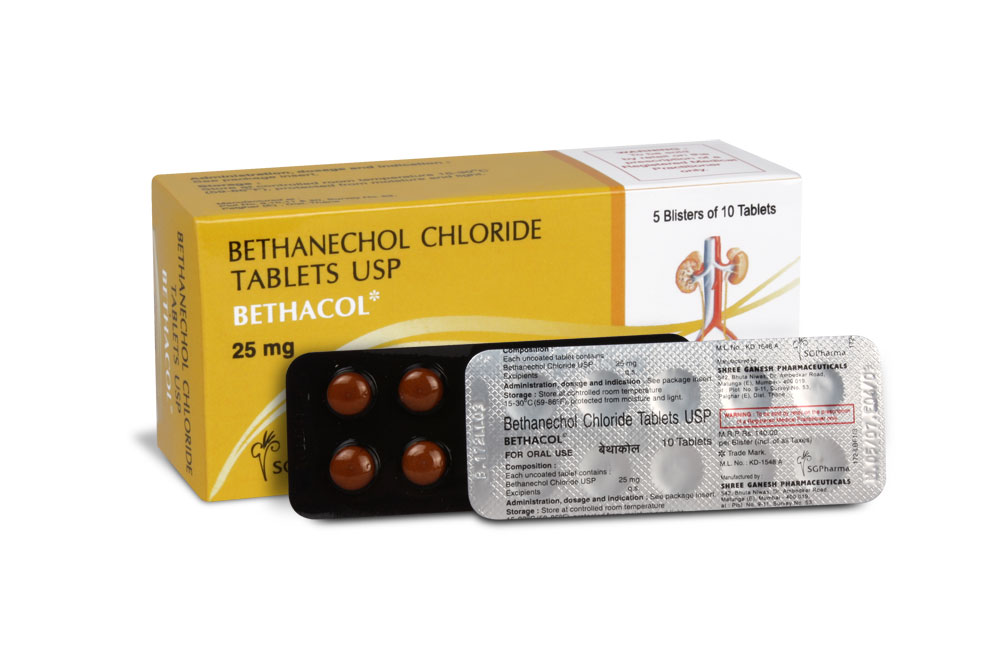 What are the major uses of this medication?
This drug is used to treat bladder disorders such as the inability to urinate or completely empty the bladder owing to a variety of factors (e.g., surgery, bladder muscle problems). It works by assisting the bladder muscle in contracting more effectively, increasing your ability to urinate. This section discusses uses of this drug that are not specified in the approved professional labelling for the drug, but that your health care provider may prescribe.
Only use this medicine for one of the conditions specified in this section if your health care provider has prescribed it. This medication can also be used to relieve heartburn. It works by assisting the stomach muscles in moving food down the esophagus and strengthening the muscle between the esophagus and the stomach (lower esophageal sphincter). This keeps stomach acid and food from rising back into the esophagus.
Steps to use Bethanechol:
Take this drug by mouth, usually 3 to 4 times daily or as advised by your doctor, on an empty stomach (1 hour before or 2 hours after meals). This drug should be taken on an empty stomach to minimize nausea and vomiting. Dosage is determined by your medical condition and treatment response. To receive the best benefit from this drug, take it daily. Take it at the same times every day to help you remember. If your issue persists or worsens, contact your doctor.
If Bethanechol does not suit, what side-effects can be seen?
You may have dizziness, lightheadedness, nausea, vomiting, abdominal cramps/pain, diarrhea, increased saliva/urination, perspiration, flushing, watery eyes, or a headache. Tell your doctor or pharmacist right away if any of these side effects persist or worsen. When rising gently from a sitting or lying position, you can reduce dizziness and lightheadedness. Keep in mind that your doctor ordered this medication because he or she believes the benefit to you outweighs the risk of adverse effects. Many persons who use this medicine don't have severe side effects.
If you have any of these unlikely but dangerous adverse effects, such as fainting, rapid heartbeat, or severe stomach discomfort, contact your doctor right once. If any of the following rare but serious adverse effects occur, seek medical help right away: Breathing difficulties This medicine seldom causes a severe allergic reaction. However, if you detect any symptoms of a major allergic response, such as a rash, itching/swelling (particularly of the face/tongue/throat), extreme dizziness, or problems breathing, seek medical help right once. This isn't an exhaustive list of potential adverse effects. Contact your doctor or pharmacist if you have any other side effects not listed above.
Few things to consider before consuming the medication:
If you are allergic to bethanechol or have any other allergies, notify your doctor or pharmacist before taking it. Inactive chemicals may be included in this product, causing allergic reactions or other issues. For further information, speak with your pharmacist. If you have specific medical conditions, you should not take this drug. If you have recently had stomach/ bladder surgery/ intestinal problems/ stomach (e.g., ulcers, spasms, blockage), peritonitis, bladder blockage, a specific nerve problem (vagotonia), overactive thyroid (hyperthyroidism), lung disease (e.g., asthma, chronic obstructive pulmonary disease-COPD), heart problems (e.g., slow heartbeat, Parkinson's disease, coronary artery disease), seizures, or blood pressure problems.
Inform your doctor or pharmacist about your medical history before taking this drug. This medication has the potential to make you dizzy. Do not drive, operate machinery, or engage in any other activity that demands attentiveness until you are certain you can do so safely. Limit your intake of alcoholic beverages. This drug should only be taken during pregnancy if really necessary. Consult your doctor about the dangers and advantages. It is uncertain whether or not this medication goes into breast milk. Before you start breastfeeding, talk to your doctor.
Interaction of this medication:
Your doctor or pharmacist may be aware of any potential drug interactions and is keeping an eye on you. Do not begin, stop, or modify the dosage of any medication without first consulting your doctor or pharmacist. Tell your doctor or pharmacist about all prescription and non-prescription/herbal items you're taking before starting this medicine, especially if you're using any of the following: blood pressure medications (e.g., mecamylamine).
Certain laboratory tests (particularly amylase/lipase levels) may be affected by this medicine, resulting in erroneous test findings. Make sure your laboratory personnel and all of your doctors are aware that you are taking this medication. There aren't all conceivable interactions in this document. As a result, inform your doctor or pharmacist of all the products you use before using this product. Keep a list of all your prescriptions on you at all times, and give it to your doctor and pharmacist.
It is critical to recognize and realize that taking too much of any drug is harmful to the body. However, if you've taken too much Bethanechol, try the following:
Stomach discomfort, drooling, nausea, feeling overheated, or vomiting are all possible overdose symptoms.
If Bethanechol medication is missed, what should be done?
If you forget to take a dose, do so as soon as you remember. If the next dose is approaching, skip the missing dose and return to your regular dosing plan. To catch up, do not increase the dose.
Storage instructions for Bethanechol:
Keep away from light and moisture at room temperature, between 59 and 86 degrees F (15-30 degrees C). Keep out of the bathroom. Keep all medications out of the reach of children and dogs. Unless otherwise directed, do not flush or pour drugs down the toilet or into a drain. When this product has expired or is no longer needed, properly dispose of it. For further information on how to safely dispose of your product, contact your pharmacist or a local trash disposal firm.
What other things about this medication should be known?
First and foremost, remember to keep all of your doctor's visits. Do not give your medication to anyone else. Any issues you have regarding refilling your prescription should be directed to your pharmacist.
Keep a documented note of all the prescription and non-prescription (over-the-counter) medications you're taking, as well as any vitamins, minerals, or other dietary supplements you're taking. If you visit a doctor or are admitted to a hospital, you should bring this list with you. It's also useful knowledge to have on hand in case of an emergency.
Since many containers, such as weekly pill minders and those for eye drops, patches, creams, and inhalers) are not child-resistant and small children can readily open them, it is critical to keep all medication out of sight and reach of children. To keep small children safe from poisoning, always lock the safety caps and store the medication in a secure location that is out of their sight and reach.